Adaptive Hunting with Ty Hockett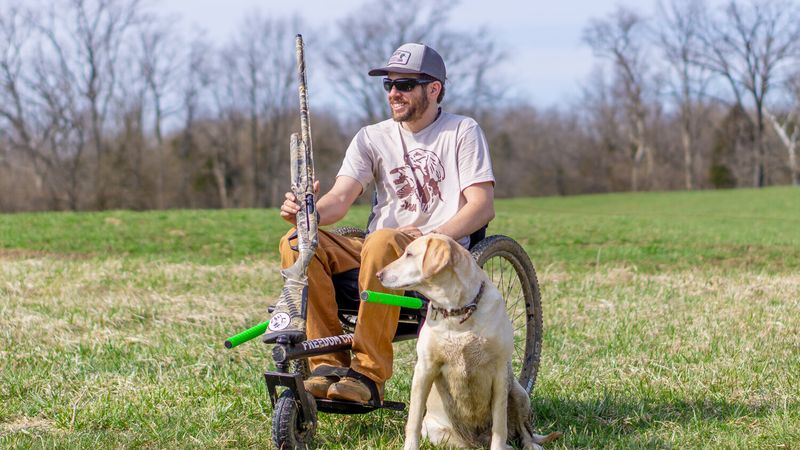 "I grew up in Kansas, so my life has always revolved around hunting. Since I was a kid, you could always find me filming or hunting with my dogs and to this day, that still holds true."
In 2009, Ty was in a truck that hit a rough patch of dirt and rolled three times, ejecting him 25 feet into the air. Ty sustained a severe spinal cord injury and was diagnosed as a C5 quadriplegic. Even after leaving Madonna Rehabilitation Hospitals, Ty could not fire a gun or shoot a bow. His life as a hunter and outdoorsman seemed to be in serious jeopardy.
But Ty pushed through. Through hard work and a commitment to his goals, Ty slowly gained more and more use of his hands. Today, Ty regularly hunts geese and other waterfowl and is an accomplished bowman, outdoorsman, dog-father, and general adventure junkie.
"My wife, Cort, and I hunt nearly every day during the season, and in the offseason, you can find us working dogs or hiking. Every day is an adventure. Sometimes you just have to look harder than others to find it."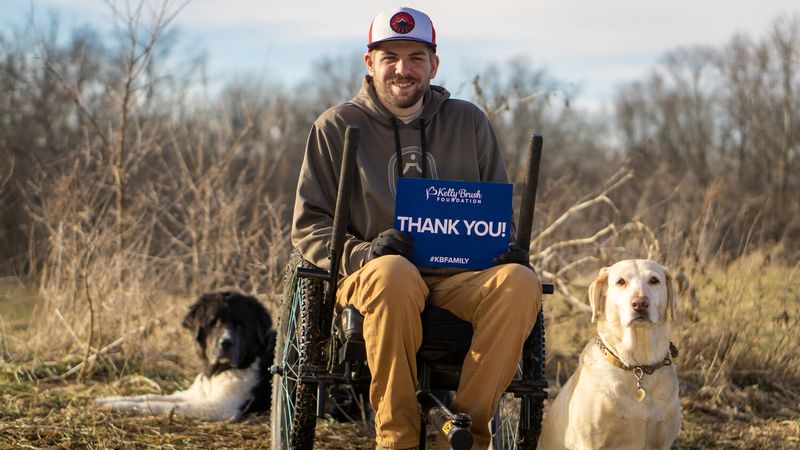 Getting the Adaptive Gear Needed
While Ty was able to regain enough use of his hands to hunt, he still needed the right wheelchair for the job. Traditional wheelchairs weren't made for the muddy terrain that comes with waterfowl hunting, and power chairs have loud motors that would scare off the birds.
Luckily, Ty was able to get an all-terrain GRIT Freedom Chair thanks to Kelly Brush Foundation's Active Fund, which provides funding to help people with spinal cord injuries attain adaptive equipment.
"This is what I love to do, and I now have the equipment to do it. Sink in the mud, let the dogs run around and get muddy, and I have the Kelly Brush Foundation to thank for that."
Now, Ty is able to live the active outdoor lifestyle he's loved his entire life.
"I enjoy every aspect of the outdoors. From hunting to hiking, I do it all. I believe it is important to maintain an active lifestyle regardless of your disability because it promotes not only physical wellness but mental wellness, too. I've never let my injury define who I am. With the help of the GRIT chair, my wife, Cortney, and my service dog, Minnie, there are a lot of adventures I'll now be able to tackle!"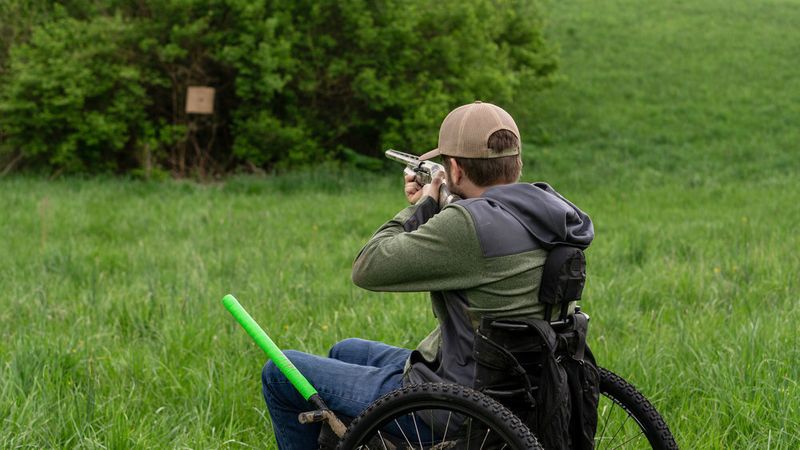 How Adaptive Hunters Are Getting Outside
Riders around the USA and the world use the GRIT Freedom Chair as their primary fishing and hunting wheelchair. The levers make the chair easier to push, so you can navigate wooded trails, get to the deer blind, or traverse sandy beaches to reach your favorite fishing spot. You can even roll the whole chair right into the water and fish from there!
Want to learn more about how the GRIT Freedom Chair can help get you outside? Get in touch and request more information from GRIT!