The Off-Road Amputee Wheelchair
The best wheelchair for leg amputees looking for adventure.
Whether your amputation is above the knee (AK) or below the knee (BK), the Freedom Chair is the off-road amputee wheelchair that can help you get outside, stay active, and enjoy the activities you've always enjoyed. Our amputee riders have used their Freedom Chairs in obstacle course races, in everyday training, in road races, ultramarathons, and beyond.
Some amputee riders use a wheelchair full-time, but many don't! GRIT team understands there's an ideal tool for every job and that the Freedom Chair is best for off-road adventure. Prosthetics have come a long way, but they're often finicky, uncomfortable, expensive to fix, and best designed for shorter outings. The GRIT Freedom Chair is an athletically built, off-road amputee wheelchair that allows you to embark on longer adventures over trickier terrains. Because every amputation is different and every rider has unique goals, we'd love to talk with you—candidly and frankly—about whether or not the Freedom Chair is a good fit for you. Give our team a call at 877-345-4748.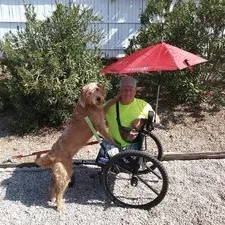 Neither a stroke, nor three bouts with cancer, nor blindness, nor two leg amputations has stopped Stephen from powering forward. He now uses his Freedom Chair to stay active, to garden, to work out, and to maintain the athletic mentality he's nurtured his entire life. He's even trained his pup from his GRIT chair!
"Let me fail. Someone who isn't making a lot of mistakes isn't trying hard enough. I'm really good at finding my boundaries, and then I'm okay getting help."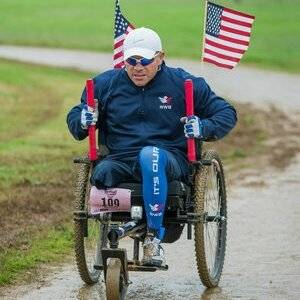 Bennie is an eight-year Marine Corps veteran (1991-1999) and above-the-knee amputee. He faces daily challenges with severe phantom pain, neuropathic pain, and muscle spasms that prevent him from wearing a prosthesis. An aspiring Paralympian, Bennie has used his Freedom Chair in multiple races and ultramarathons.
"Without the Freedom Chair, I couldn't experience what most trail runners feel after conquering trail distances—[from] half marathons on up to 100 miles."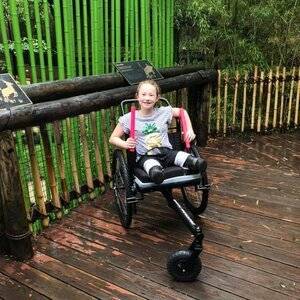 When Lilly was born, her legs were affected by a rare muscular condition. At six years old, she had both of her legs amputated above the knees. Her original prosthetics were uncomfortable and difficult to remove and maneuver and she now uses a GRIT all-terrain amputee wheelchair to explore and adventure.
"I got to control the terrain instead of the terrain controlling my advantage! Wet and slippery zoo trails you got nothin on me now!"
About two years ago, Al went into surgery to have his left leg amputated due to long term diabetes. Two and a half weeks after losing his left leg, he went in for a minor procedure on his right leg. During that procedure, they discovered he had necrotizing fasciitis. To save his life, they amputated his right leg immediately.
"The biggest thing is being able to go off road. To just get off the pavement and go somewhere."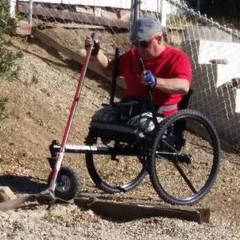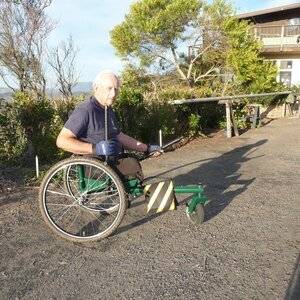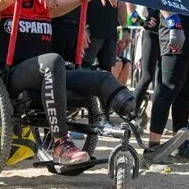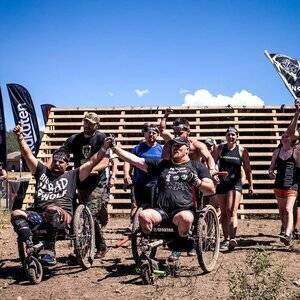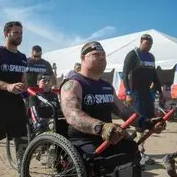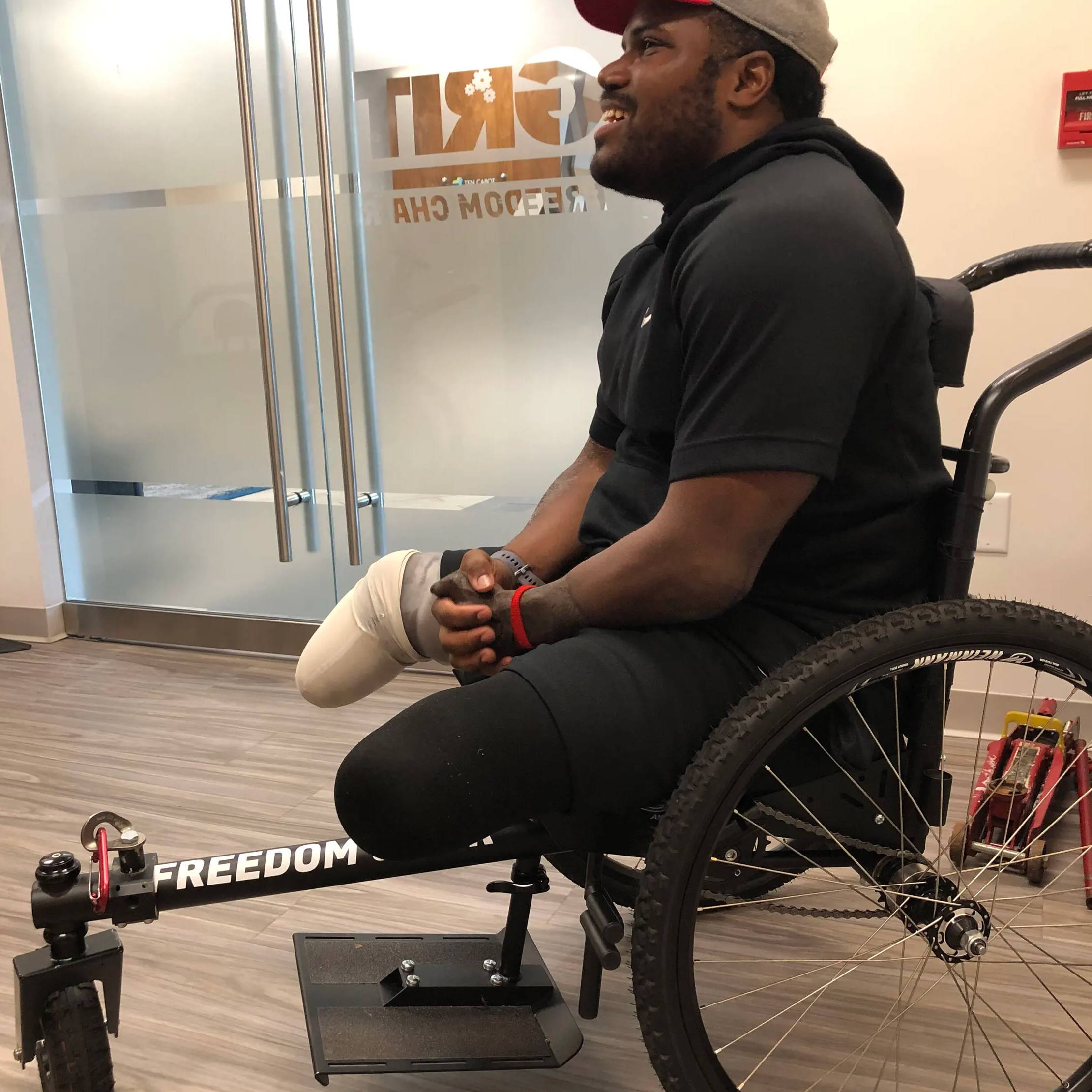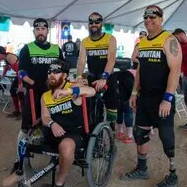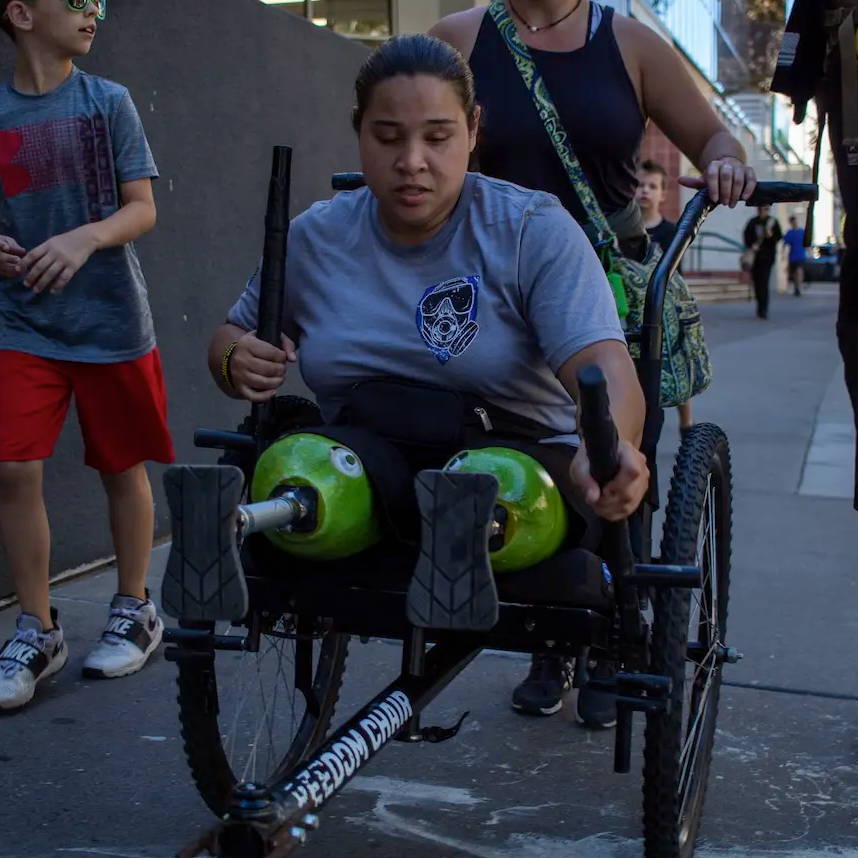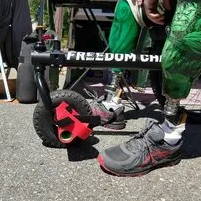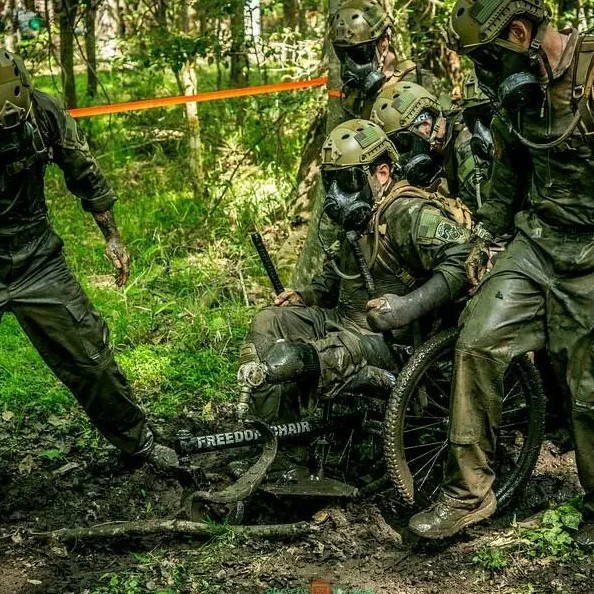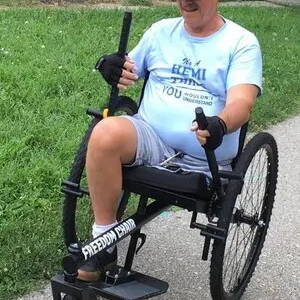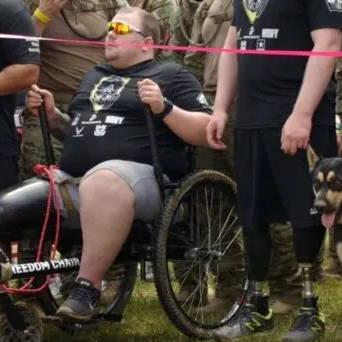 Benefits of the GRIT Freedom Chair wheelchair for amputees

Reduced shoulder strain
GRIT's all-terrain amputee wheelchair uses an ergonomic lever drive that engages large muscle groups in the chest and shoulders. This physics-backed design helps prevent shoulder and arm injuries that plague users of regular wheelchairs.

Fun to ride
The easy-to-push lever drive takes the physical stress out of pushing yourself around, helping you to focus on enjoying your environment and the friends and family you're exploring it with. It's also just an outright good time, so hop into the chair and get going!

Adventure-friendly
Prosthetics don't always handle moisture or dirt as well as they should. Sand or mud caught in a prosthetic socket can abrade or cut into your skin. If you're headed to the trail, beach, or park, use your Freedom Chair to avoid damaging your other equipment.
All-Terrain Amputee Wheelchair FAQ
How do I stay secure in the chair?
The seat is angled backward (dumped) 14 degrees from horizontal and the seat back is angled 7 degrees back from vertical. These features keep you secure in a comfortable riding position. The chair comes standard with a seatbelt, but we can offer ratchet straps and recommend chest straps as well. We also have anti-tip bars that are easy to add to the chair for some extra peace of mind.
How are the levers on my shoulders?
The GRIT Freedom Chair's lever drive is more ergonomic than regular wheelchair push rims. In fact, it is twice as physically efficient. Pushing the levers on the Freedom Chair engages large muscle groups, and the lever drive makes it easier to push than regular wheelchair wheels. This design helps our riders get farther into adventure than they otherwise could have; it also makes tough terrain like roots, rocks, and inclines easier to overcome.
We'd love to connect via email or telephone to go over the GRIT Freedom Chair and to answer any questions you have.
Want to talk later?
Fill out the short form below and we'll reach out.