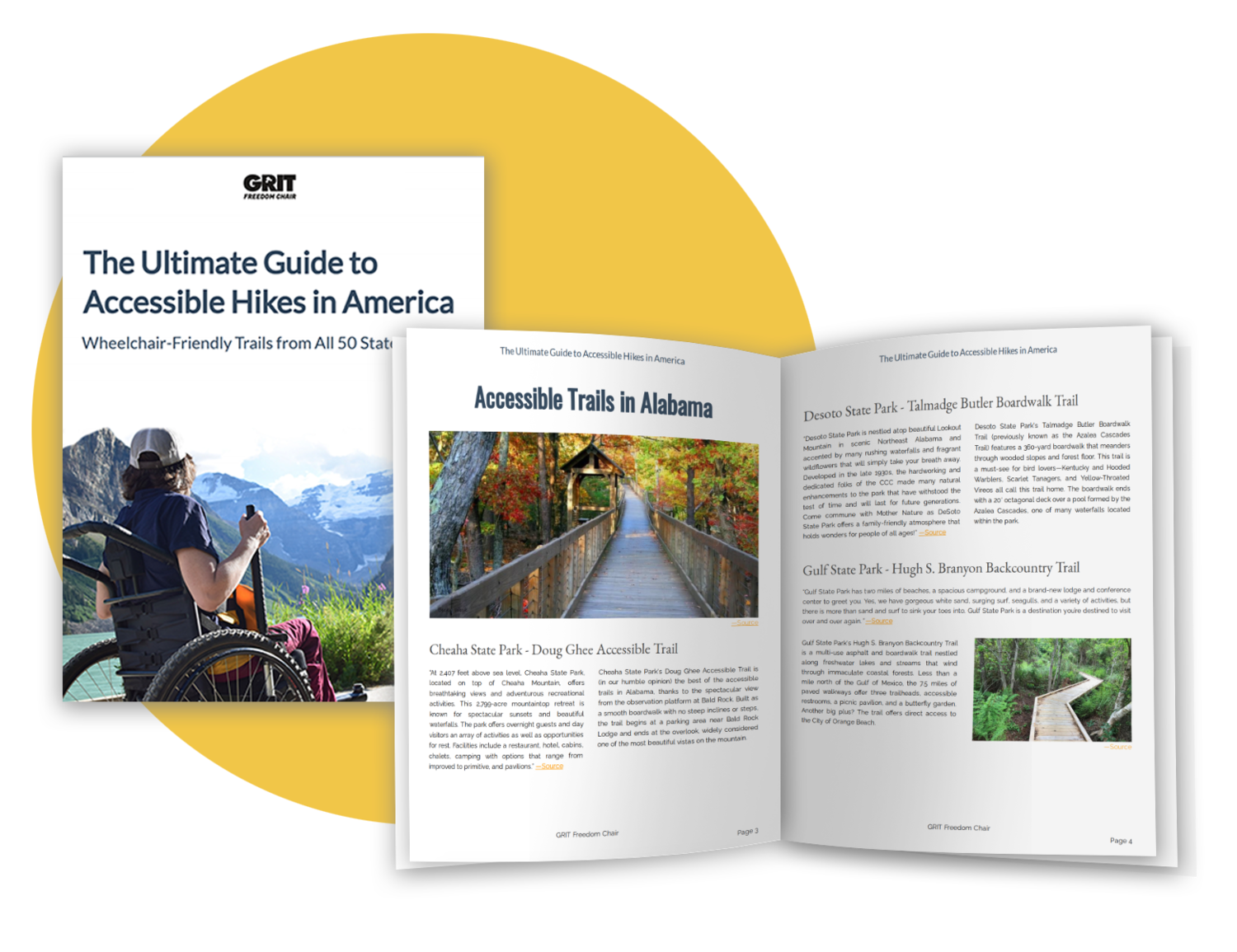 Every GRIT Freedom Chair is hand-assembled and certified by our engineering and design team in Massachusetts. We've tested the GRIT Freedom Chair extensively in the lab, in the field, and with the help of wheelchair riders around the world. Every component has been extensively prototyped and refined based on our combined twenty-five years of experience designing mobility aids for some of the most extreme environments in the world. That being said, unexpected things happen, and we want to be there for you when they do.
If you have any issues with your GRIT Freedom Chair you can contact us directly at info@gogrit.us or +1-877-345-4748.
We're the designers of the product and we'll do everything we can to make things right. In short, our two year warranty covers repairs or replacements of all non-wear components of the GRIT Freedom Chair manufactured by GRIT, subject to the terms below. Wear parts, such as tires, tubes, brakes, and bearings, are not covered.
---
The specific warranty covering your GRIT Freedom Chair mobility device is governed by the law of the state or country in which it was purchased, and applies only to mobility devices purchased directly from GRIT or from Authorized GRIT Retailers.
GRIT frames and manufactured parts are warrantied by Global Research Innovation and Technology Inc., 10 Cabot Road, Suite 103, Medford, MA 02155, against manufacturing defects in materials and/or workmanship for a period of two years from the date of original retail purchase. Rental fleet devices are not covered by this warranty.
Terms of Limited Warranty

This limited warranty is not meant to suggest or imply that the mobility device cannot be broken or will last forever. It does mean that the mobility device is covered subject to the terms of the limited warranty.
This limited warranty applies only to the original owner of a GRIT mobility device and is not transferable to subsequent owners.
For any warranty claim to be considered, we must receive proof of issue along with the original, dated sales receipt for the mobility device. (Be sure to keep your receipt, or e-receipt, in a safe place.)
This limited warranty is void if the mobility device is subjected to abuse, neglect, improper repair, improper maintenance, alteration, modification, an accident or other abnormal, excessive, or improper use. Any after-sale modification that prevents the chair from being returned to its original state will void the warranty.
This limited warranty applies only to mobility devices purchased from GRIT, from Authorized GRIT Retailers, or other outlets specifically authorized by GRIT to distribute GRIT mobility devices.
The GRIT Freedom Chair: 3.0 and Spartan have a weight limit of 300 pounds. The GRIT Freedom Chair: Pro has a weight limit of 250 pounds. GRIT is not responsible for damage resulting from riders who are above these thresholds. Unfortunately, we cannot extend the GRIT Guarantee to riders above these thresholds.
Non-custom, non-refurbished GRIT accessories ordered with or after a full chair are backed by the GRIT Guarantee.
Returns of GRIT Freedom Chair: Pro and GRIT Junior models come with a 15% restock fee, even when returned within the first 30 days of ownership.
For returns for products shipped internationally (outside of the United States): The customer is responsible for all duties, taxes, and fees for outbound and return shipments. Duties, taxes, and fees from the original shipment are non-refundable.
Additional shipping fees may apply for replacement parts on international orders.
Refurbished GRIT Freedom Chairs and refurbished accessories are not eligible for refunds and are nonreturnable. They are sold as-is and do not fall under the terms of the 30-day trial period.
Damage resulting from normal wear and tear is not covered.
Every GRIT mobility device has a useful product life cycle. Use in trick riding, ramp riding, jumping, aggressive riding, riding on severe terrain, riding in severe climates, riding with heavy loads, commercial activities and other types of nonstandard use can dramatically shorten the useful product life cycle of a GRIT mobility device that would not be covered by this warranty. ALL GRIT MOBILITY DEVICES SHOULD BE PERIODICALLY CHECKED for indicators of stress and/or potential failure, including cracks, deformation, corrosion, paint peeling, dents, and any other indicators of potential problems, inappropriate use, or abuse. These are important safety checks and very important to help prevent accidents, bodily injury to the rider and shortened useful product life cycle of a GRIT mobility device.
Damage resulting from improper assembly or maintenance, or from installation of parts and accessories not compatible with the GRIT mobility device, is not covered.
During the duration of this limited warranty, GRIT will either repair any defective frame or component, or, at our option, replace any defective frame or component with the same or most nearly comparable model or component then available. The customer will bear the cost of return shipping. The cost of initial shipping is also nonrefundable, including duties/taxes/fees for outbound and return shipping. THIS IS THE EXCLUSIVE REMEDY UNDER THIS WARRANTY. ANY AND ALL OTHER REMEDIES AND DAMAGES THAT MAY OTHERWISE BE APPLICABLE ARE EXCLUDED, INCLUDING, BUT NOT LIMITED TO, INCIDENTAL OR CONSEQUENTIAL DAMAGES OR PUNITIVE DAMAGES.
THIS IS THE ONLY WARRANTY MADE BY GRIT ON ITS FRAMES AND COMPONENTS, AND THERE ARE NO WARRANTIES WHICH EXTEND BEYOND THE DESCRIPTION HEREIN. ANY WARRANTIES THAT MAY OTHERWISE BE IMPLIED BY LAW INCLUDING, BUT NOT LIMITED TO, ANY IMPLIED WARRANTY OF MERCHANTABILITY OR FITNESS FOR A PARTICULAR PURPOSE, ARE EXCLUDED.
Please refer to the documents included with your mobility device for possible further restrictions.
This Limited Warranty gives the consumer specific legal rights. The consumer may also have other legal rights which vary from state to state or country to country. Some states and countries do not allow the exclusion or limitation of incidental or consequential damages or warranties, so the above limitations or exclusions may not apply to you. If it is determined by a court of competent jurisdiction that a certain provision of this limited warranty does not apply, such determination shall not affect any other provision of this limited warranty and all other provisions shall remain in effect.
---
Questions about the GRIT Freedom Chair?
Fill out the short form below and we will contact you as soon as possible!