Riders with cerebral palsy (CP) use the GRIT Freedom Chair to move beyond. From wooded trails and grassy fields to obstacle course races and parks, our riders are out in the world, all the time, having lots of adventures! Read what actual GRIT Freedom Chair riders with CP are saying.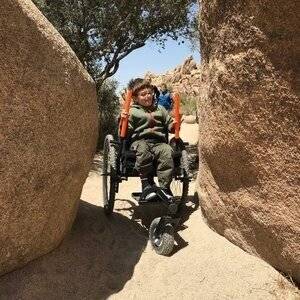 "I love watching him speed off ahead of us on whatever path we're on, enjoying his own independence and ability to fly."
—Jennifer (Ollie's mother)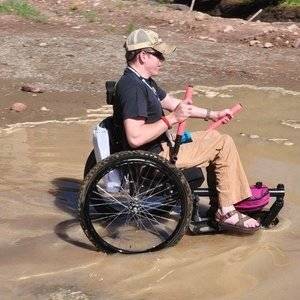 "You have the freedom to go anywhere and do anything…The fact that I have been so rough on it and it still works as well as the day I got it is impressive."
—Tyler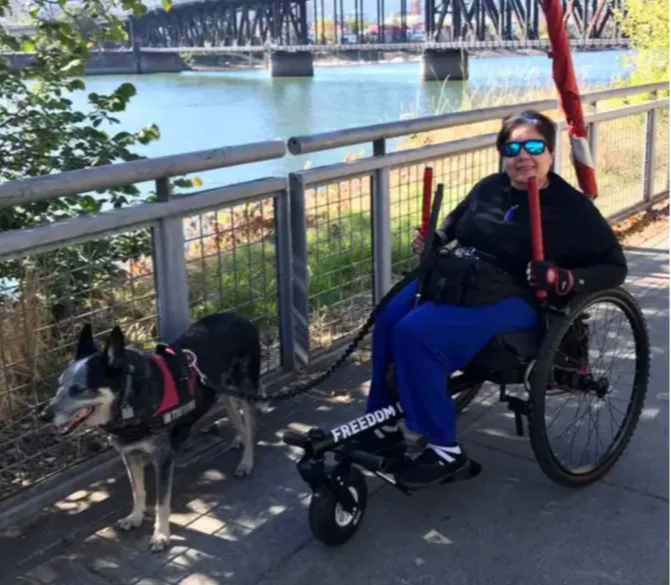 "I refuse to live in a world that was not designed to me. I've spent my life looking for the right equipment that will allow me to do what I want to do. The GRIT Freedom Chair is about being able to do that."
—Aisha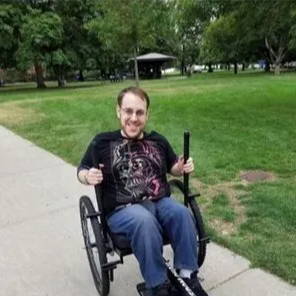 "The GRIT team is knowledgeable, friendly, and in my case, extremely patient. For those readers who might be put off by the price tag, don't underestimate how much reaching out to others can help you."
—Brett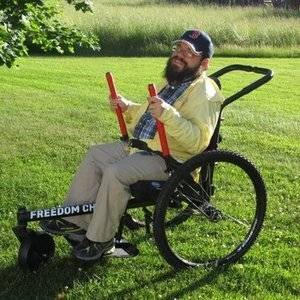 "I continue to enjoy my adventures with the GRIT Freedom Chair. The past few weeks I have had the thrill of telling friends, family, and community members that I've been spending my time doing something that I have never been able to do before."
—Nate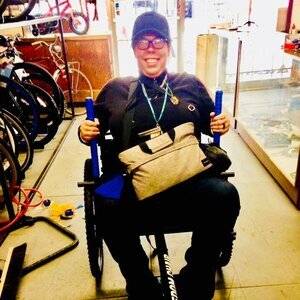 "I was getting to the point where the walker was more hassle than it was worth, but I needed to sit down and the chronic pain was getting too much… It's priceless to me…I don't feel 'disabled' in it. I feel enabled."
—Angela
---
Benefits of the GRIT Freedom Chair Wheelchair for CP


Reduced fatigue
The GRIT Freedom Chair is significantly easier to push than a regular wheelchair. The ergonomic lever drive uses large muscle groups to reduce fatigue and keep you adventuring longer.

Low-impact cardio
With our easy-to-push lever system, you can exercise your heart and lungs rather than just your arms. Many riders use it as a low-impact cardio device. Get out and work up a sweat!
How do I stay secure in the chair?

The GRIT Freedom Chair is a consciously engineered wheelchair for CP riders— in part due to its angled seat and seat back. The seat is angled backward (dumped) 14 degrees from horizontal and the seat back is angled 7 degrees back from vertical. These features keep you secure in a comfortable riding position, even if you have weak abdominal support.
Additionally, the seat belt can be used as a waist or leg strap, for additional safety and security when riding. Some riders with more limited trunk control also enjoy riding with a chest harness, which keeps them upright and centered against the seat back.
How much strength do I need?
Pushing the levers is easier than pushing push-rims, so if you're able to maneuver those, you'll be absolutely fine in the GRIT Freedom Chair. We've also had a number of people who are unable to use push-rims have tremendous success in our chair. Of course, you will need some strength to push the levers forward (in the GRIT Freedom Chair, you are the motor), but very little to pull back, as the backward stroke just ratchets and resets for the next stroke.
Some riders, like Nate (see above), use a power chair as their primary mode of mobility, but are able to propel themselves in the GRIT Freedom Chair.
---
Questions about the GRIT Freedom Chair?
Fill out the short form below and we will contact you as soon as possible!