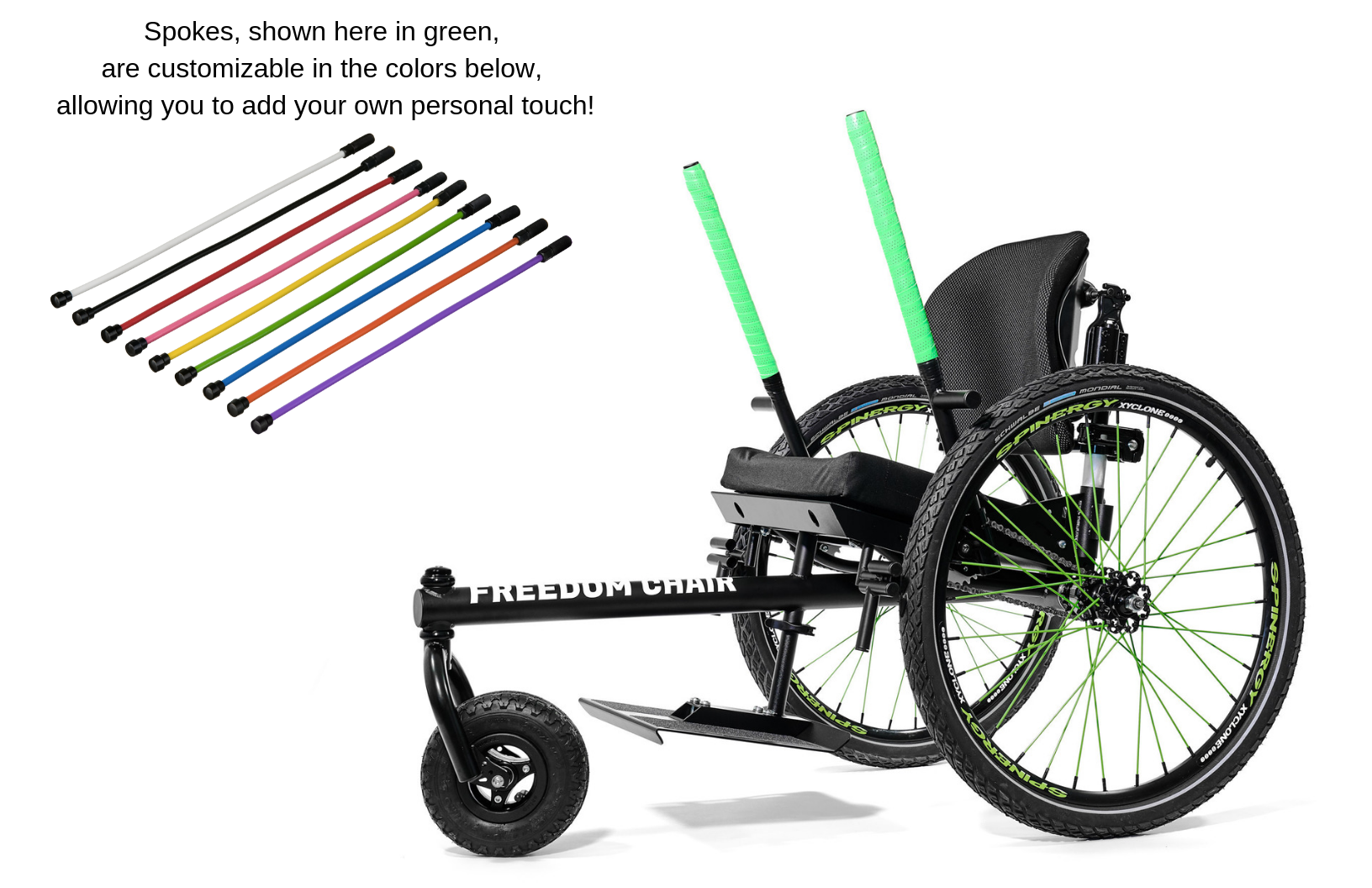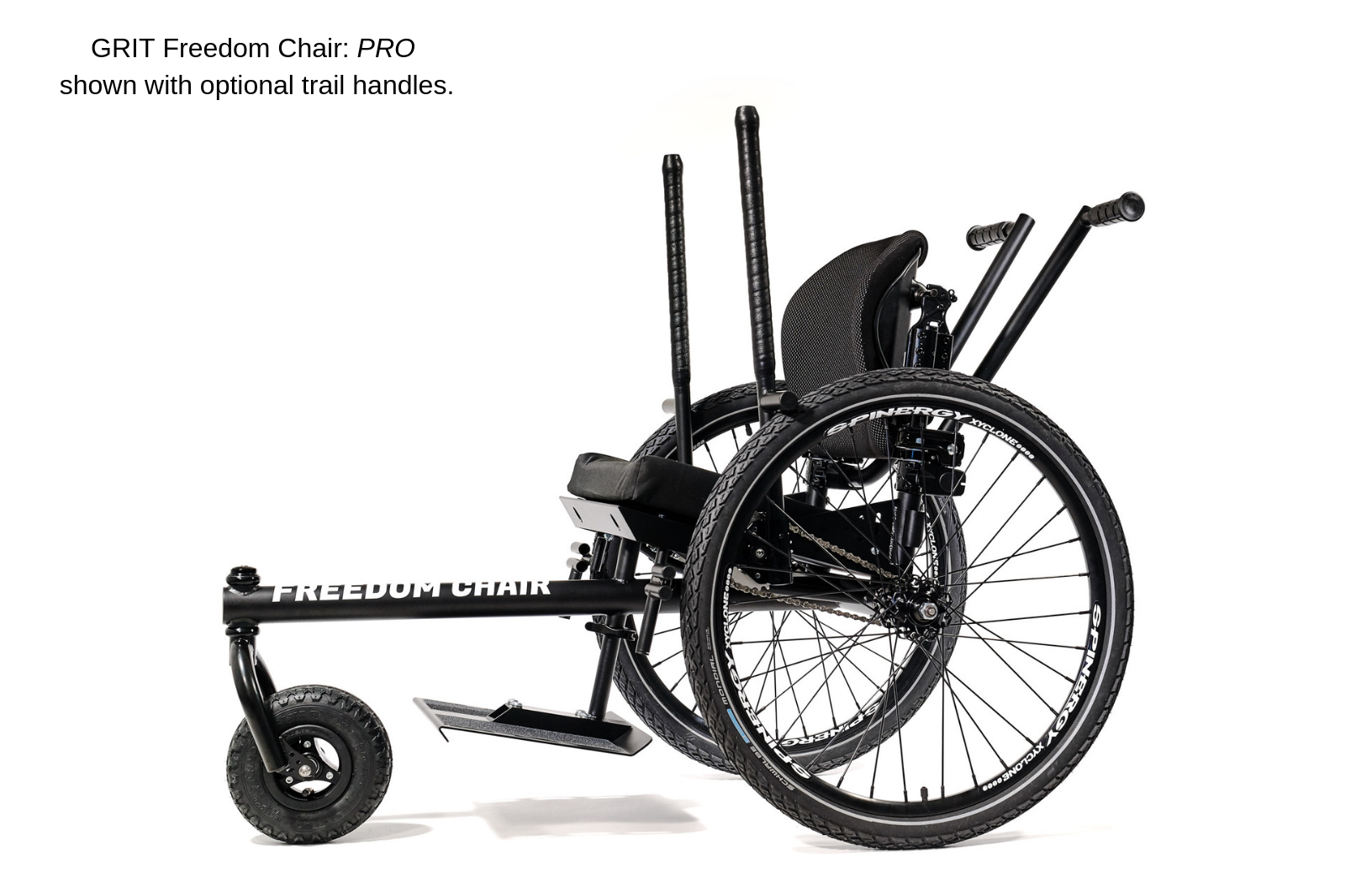 Our highest-performance all-terrain wheelchair yet, the GRIT Freedom Chair: Pro, has everything you need to blaze your own trail.
Spinergy Wheels, Custom Colors
The Pro features revolutionary Spinergy wheels, which have taken over the wheelchair industry and are becoming mainstays in the gravel-touring biking world. These are the go-to wheel-sets for riders looking for extreme durability, weight reduction, and minimized vibration over tough terrains. Our Xyclone model comes in the 26" standard for mountain bikes and features 32 polyphenylene benzobisoxazole (PBO) fiber spokes. These spokes are three times the strength and half the weight of steel spokes, resulting in less rotational weight and a quickened wheel response. The icing on the cake? Spinergy is all about meeting performance with personalization. The PBO spokes are wrapped in a protective composite, which means you can customize your colors! Choose from nine different color options to show your personal flare. We'll even color-match your lever wraps, too!
Schwalbe Touring Tires
The tires GRIT uses on the Pro model—2" Schwalbe Marathon Mondial tires—provide additional durability, optimized traction, braking, and puncture protection. Marathon tires are often kitted on high-level, gravel-touring bicycles and wheelchair setups. The sidewalls on these tires even have a reflective strip for low-light visibility.
Adjustable, Quick-Release Seat Back
The Pro also comes equipped with a rigid seat back, featured exclusively on this model. This super-comfortable, molded back is adjustable in both height and recline and allows for maximum comfort for any adventure. The Pro backrest has quick-release back canes for easy disassembly and is compatible with many standard wheelchair backs and back accessories.
Upgraded Drivetrain, Stronger Fork, and More
Also on the list of highlights:
New drivetrain upgrade that improves performance, optimizes top speed, simplifies acceleration, and helps you engage your levers sooner.

A specially coated chain with anti-rust defense that surpasses 650-hour salt-spray tests.

A lightweight chainring, CNC machined from aircraft-grade alloy.

A lightweight, stronger, and tubular fork designed to handle obstacles.

Levers hand-wrapped with bike handlebar tape, custom-color coordinated to wheels.
Additional GRIT-ty Benefits
Of course, the Pro also comes rigged with the base features that make every GRIT Freedom Chair an exceptional all-terrain chair, including:
A patented, easy-push lever drive

Quick-release wheels and footrest

Great on trails (and lots of other terrain)

Fit in the trunk of a small car

Use standard mountain bike parts

The industry's best customer service

A two-year warranty

Expediting shipping available upon request—just call us at 877-345-4748 to ask!
*Note that because this model is custom built for each rider, there is a 15% fee for all Pro returns.